Industry Leading Technology
Arecont Vision® leads the way in megapixel video, and we have continued to do so ever since our first cameras were released in 2004.
Our Arecont Vision MegaIP™ megapixel cameras are designed and built in the USA and leverage our cutting-edge features and MPIP (Massively Parallel Image Processing) technology.
Our world-class ConteraIP™ megapixel cameras are designed to our specifications, and bring affordable and feature-rich products to the video surveillance market with Arecont Vision quality.
Explore this page to learn about the thinking behind the best megapixel cameras in the video surveillance industry, and the features and capabilities that our cameras deliver.
Learn More About Our Company and Our Industry Firsts.
Select a Feature to Review or Scroll Down.
The Benefit of Arecont Vision Quality Megapixel Resolution

Arecont Vision megapixel technology in our MegaIP and ConteraIP series deliver superior image quality, increases video coverage, and reduces overall system costs by covering larger areas with fewer, more reliable cameras. Catching a suspect or car involved in a crime or incident often comes down to the clarity in which a surveillance camera captures a face or license plate. Arecont Vision technology includes excellent glass lens imaging packages, innovative designs, and outstanding resolution. Arecont Vision can dramatically reduce the number of cameras required for projects while increasing image clarity and situational awareness coverage.


Understanding Megapixel Technology
The lowest resolution camera offered by Arecont Vision, 1.2 megapixel (MP), is over 3 times the resolution of any standard definition camera on the market. 1080p and 4K resolutions found in high definition or "HD" televisions and video cameras are equivalent to 2.1MP and 8.3MP respectively. The chart below shows all Arecont Vision megapixel resolutions compared to typical analog formats.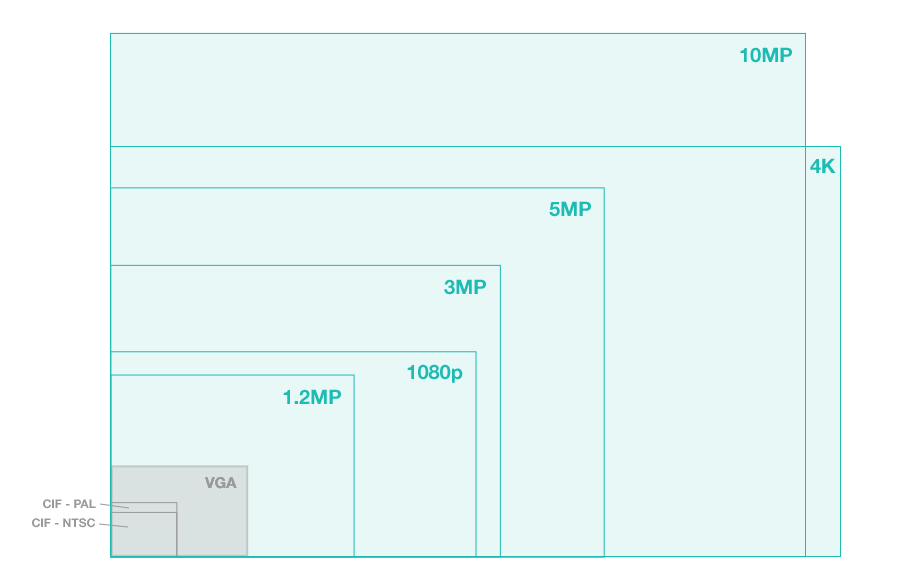 Panoramic and Multi-Sensor Resolutions
Arecont Vision multi-sensor technology found in the Mega SurroundVideo and Contera Panoramic families have four individual camera sensors in a single indoor/outdoor day/night dome camera housing. For example, a 40MP Mega SurroundVideo panoramic camera is made up of four 10MP camera sensors that create a highly detailed and virtually seamless panoramic image. As a result, an area typically requiring multiple pan-tilt-zoom (PTZ) cameras or multiple fixed cameras may be able to be covered with a single SurroundVideo panoramic or multi-sensor camera.

This example of the dramatic increase in total megapixel resolution is shown using Arecont Vision Mega SurroundVideo or Contera 180°panoramics that "stitch" all four sensors together in a row to make one giant image. The Mega SurroundVideo Omni Series cameras can have all four sensors pointed in various directions.

4K Resolution & Technology
4K technology and 5th generation MPIP architecture greatly increase the processing output capability of the Arecont Vision Mega camera portfolio. 8.3MP at 30 frames per second (fps), or 1080p at 60 fps, provides incredible details at faster than real-time frame rates. The greater processing capability allows for virtually unlimited upgrade potential in the future.
Arecont Vision Mega-series UltraHD cameras are also available in the MegaDome and MegaVideo series. UltraHD cameras offer choice of 1080p at 60fps, 4K (8MP) at 30fps, or 12MP at 20fps through Tri-Mode technology. With UltraHD, designs and configurations are simpler with a single camera to specify.
Extreme Lighting Conditions

Video surveillance is a 24-hour per day operation. Maintaining a clear and detailed visual through fluctuating lighting conditions can be challenging. Arecont Vision offers several industry-leading technologies to deal with the harshest of lighting environments from intense backlight to low light and no light conditions.f


Wide Dynamic Range (WDR)
For applications with strong backlighting or reflections from wet or shiny flooring, producing clear images in challenging a range of lighting conditions can be achieved by maximizing the amount of detail in both bright and dark areas of a scene with Arecont Vision wide dynamic range technology.
WDR is available on select Mega-series models in 1080p, 3MP, 4K, and 12MP resolutions with up to 100db at full resolution and maximum frame rates.
All Contera camera models feature Arecont Vision Enhanced WDR technology with a dynamic range up to 120db at full resolution and maximum frame rate.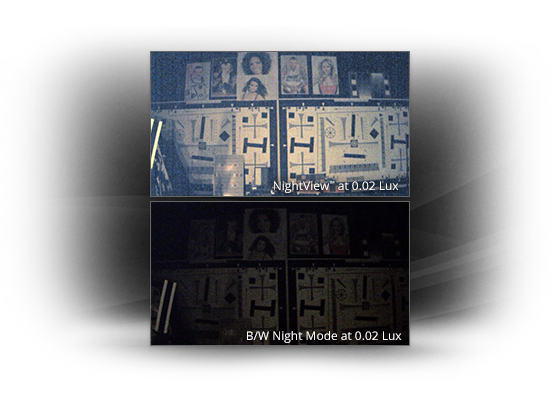 NightView™ Low Light Technology
Arecont Vision NightView is our newest low-light color imaging technology. Mega (select models) and Contera (all models) cameras with NightView are able to bring out very detailed color images where other cameras show no image at all.
NightView also maintains low bit rate and storage requirements without compromising video quality.

True Day/Night Low Light Technology
As part of their superior True Day/Night operation, most Arecont Vision MegaIP and ConteraIP camera models include low-light enhancing technology with a mechanical IR (infrared) cut filter. True Day/Night capability automatically switches from color to black and white operation to increase sensitivity and image clarity at night or in unlit spaces.
True Day/Night is available on all Arecont Vision Mega product lines, including the smallest form factor products such as MicroDome and MegaVideo Flex, and the multi-sensor SurroundVideo and SurroundVideo Omni families. All Contera camera models feature mechanical IR cut filters.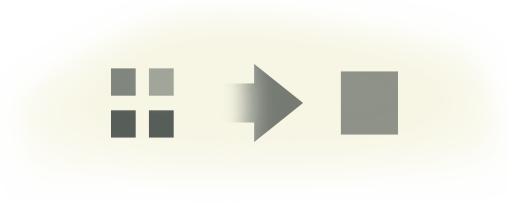 Pixel Binning
Binning technology, used in parallel with True Day/Night functionality, sums the light value of 4 pixels into 1 larger pixel yielding much better image quality in low light and reduced bandwidth on MegaIP series cameras with 3MP and higher resolution.
Defog Technology
All Contera cameras feature digital image defog technology to produce the best possible imagery, even in challenging viewing conditions.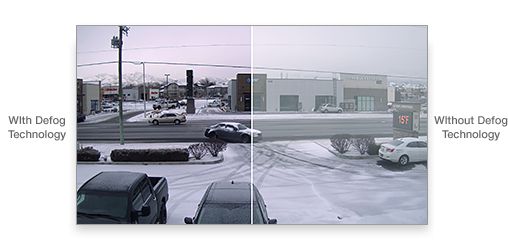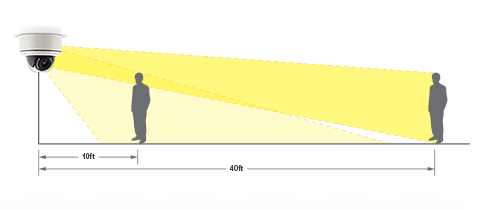 Adjustable IR, Smart IR, and Panoramic IR Illumination
Adjustable IR illuminators in MegaIP series MegaBall camera models allow installers to manipulate the illumination intensity of the IR LEDs. Since the distance of objects in a scene and the field of view can vary depending on the use case, the flexibility of an adjustable IR illuminator provides better control over lighting in low light conditions.
Smart IR illuminators in all Contera single-sensor cameras feature variable illumination that automatically adjusts for distance and even disbursal up to 66 feet (20 meters) for scenes with low or ambient lighting.
Panoramic IR illuminators on all Contera multi-sensor cameras ensure superior IR illumination across the entire scene.


Dual Sensor with 3MP Wide Dynamic Range and 1.2MP Monochrome
The dual sensor MegaIP series MegaVideo Compact camera is designed for scenes with the harshest of lighting conditions. During the day, the 3MP WDR provides clear image details even with intense backlighting, and at night the 1.2MP monochrome sensor provides incredible image quality in extreme low light.
Performance

Arecont Vision MegaIP series cameras deliver proven performance, including unmatched cybersecurity protection, thanks to our FPGA technology and massively parallel image processing architecture. We can add new features and capabilities to existing Mega cameras, extending the useful life of our products to the benefit of customers.
Contera cameras employ our world-class System on a Chip (SoC) technology to bring the most features and capabilities to our customers in an affordable, reliable family of products.
All Arecont Vision cameras balance bandwidth requirements with storage demands, and much more.


FPGA Technology
At the core of every Arecont Vision MegaIP series camera is a Field Programmable Gate Array (FPGA) integrated circuit. Each FPGA is programmed with our in-house designed Massively Parallel Image Processing (MPIP) architecture, now in its 5th generation.
Mega cameras do not use common operating systems but rely on the MPIP architecture, which is an important safeguard for those seeking maximum cybersecurity protection. Arecont Vision Mega cameras cannot be abused or compromised to be used for malicious purposes as a result.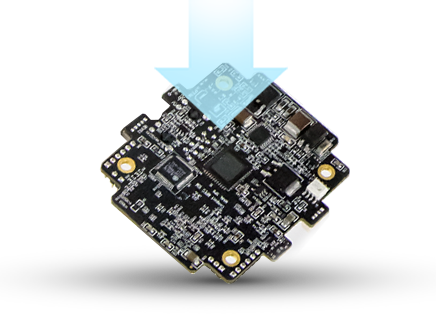 FPGA technology and the MPIP architecture developed by Arecont Vision have another huge benefit for those wishing maximum return on investment on their cameras with the longest possible useful product life.
New features and capabilities developed by our R&D teams and those of our Technology Partner Program members can be updated and added to installed Mega cameras. This allows customers to take advantage of new features, image quality improvements, reduced bandwidth algorithms, security enhancements, and much more with an update installed onto Arecont Vision Mega cameras.
The AV IP Utility can be used to update one or multiple Mega cameras in this manner for both hardware and firmware files. It can also be used to update the firmware of Contera cameras which employ our System on a Chip Architecture, but is not able to update the hardware files.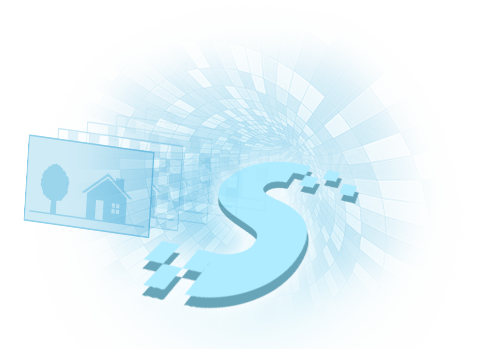 SNAPstream™ and SNAPstream™ + Technology
SNAPstream technology, or Smart Noise Adaption and Processing, greatly reduces bandwidth without sacrificing image quality for an enhanced H.264 or H.265 codec. This breakthrough technology adapts to sudden changes in the scene, and only pushes through necessary information meaning substantially lower storage requirements.
SNAPstream is supported by all Mega camera families, using the H.264 codec. SNAPstream+ is supported by all Contera camera families, using the H.265 codec.

Casino Mode™ Maintains 30fps
For fast-action applications like gaming, where high frame rates are mission critical, Mega cameras with Casino Mode guarantee 30 frames per second to capture every detail on even the slightest of hands.
All Contera cameras also support 30fps capability.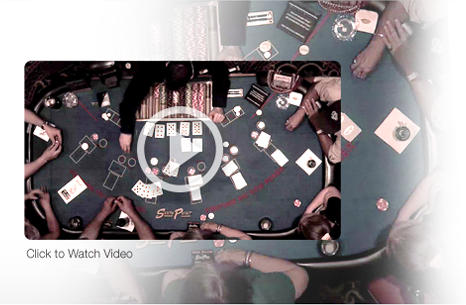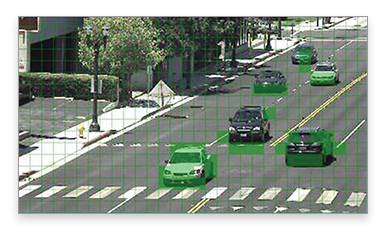 1024-Zone Extended Motion Detection
The most miniscule signs of motion can be detected with the 1,024 distinct motion detection zones in all current Arecont Vision Mega cameras.
With 1024 zones per sensor, the 4-sensor MegaIP series SurroundVideo® series has over 4,000 motion zones.

Down Scaling
Arecont Vision Mega cameras that feature down scaling offer 22 lower resolution options from SQCIF to 720p in addition to full resolution of the camera. Down scaling is useful for pulling a second lower resolution stream for client viewing or remote monitoring while the high-detail, full resolution video is archived on the server.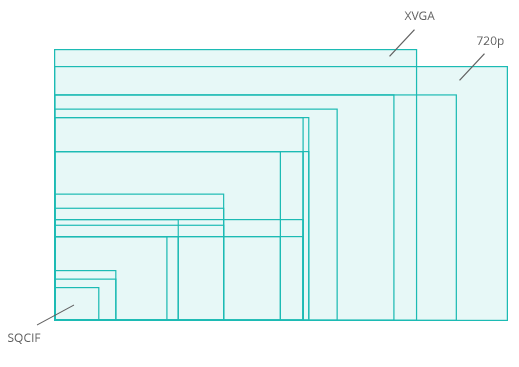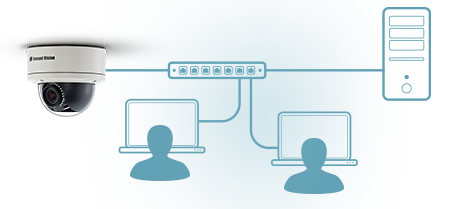 Multicasting
All Arecont Vision MegaIP and ConteraIP cameras support multicasting, a network feature that takes a single video stream from the camera and allows several users to access the video. It is commonly used in enterprise deployments to allow multiple client users view video from the same camera without adding additional stress on the recording server to retransmit live video.

Multi-Streaming
All Arecont Vision MegaIP and ConteraIP cameras support multiple streams to be pulled from the camera at the same time. Multi-streaming is commonly used to provide 1 full resolution stream for recording, and lower resolution streams for live viewing at the client or remotely.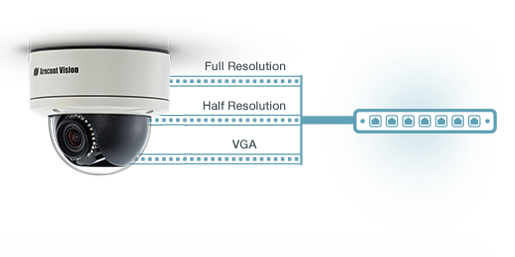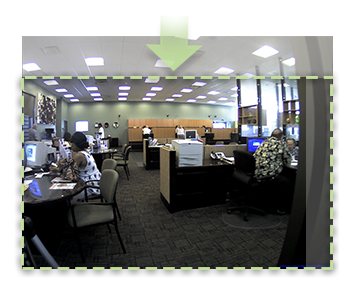 Flexible Cropping
Flexible Cropping is a feature unique to Arecont Vision Mega cameras. It gives the user the flexibility to turn off unnecessary pixels at the camera level to greatly reduce the bandwidth and storage requirements.

Privacy Mask
Privacy masking blocks regions of the image at the camera level so the data is never transmitted to the recording software. Arecont Vision Mega cameras allow users to create multiple arbitrary shapes to customize the privacy mask to the specific application.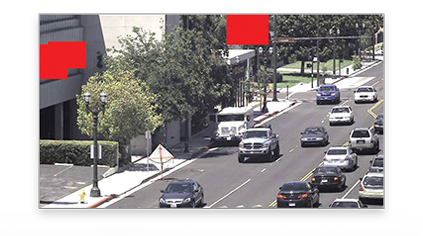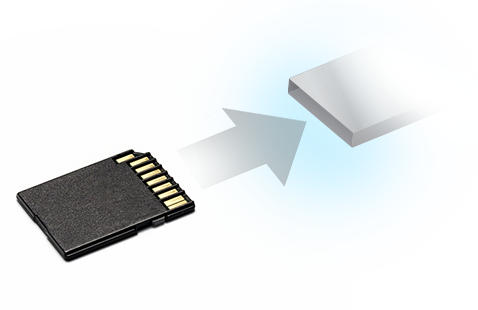 Onboard Storage with SDHC Card Slot
Onboard storage provides an easy back-up or stand-alone solution for storing data. The SDHC card slot on most Arecont Vision MegaIP and ConteraIP cameras supports up to 32GB (Mega) or 256GB (Contera) of onboard storage capacity.

4K/1080p Dual Mode/UltraHD Tri-Mode
Arecont Vision Mega 4K cameras can operate at either 4K or 1080p resolution while reaching up to 30fps or 60fps respectively. Switching the camera to 1080p can be beneficial for applications where capturing motion detail outweighs the need for higher pixel density.
Arecont Vision Mega UltraHD cameras offer 1080p at 60 fps, 4K (8MP) @ 30fps, or 12MP @ 20fps with Tri-Mode.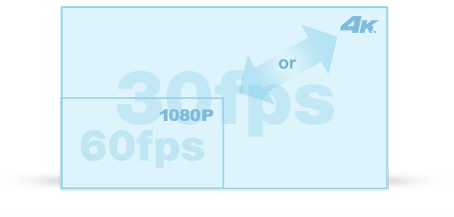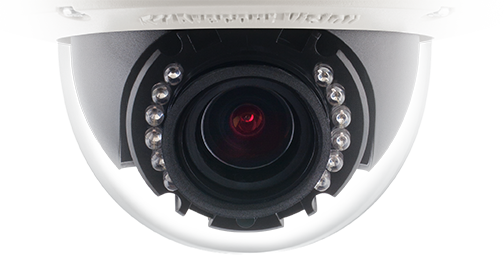 P-Iris Control for Superior Image Clarity
The P-iris, or Precision iris, lenses ensure the best possible image clarity and depth of field for optimal performance and image quality. The lens can provide an automatic, precise iris control for applications with varying lighting conditions. Many MegaIP and Contera camera models feature P-iris lenses.
Easy Installation

Speeding up the installation process positively affects the total cost of ownership. Arecont Vision offers a number of innovative housing designs and features in both our MegaIP and ConteraIP series that aid in creating a faster and easier installation experience as well as a precise camera setup.


Spring Arm Design
The MegaIP series of MicroDome flush mount cameras incorporate an innovative spring arm design for simple installation into drop ceilings with no external hardware required.
Simply cut a hole in the ceiling and the MicroDome pops into place, securing itself without the need for fasteners. This spring arm technology is also available on the flush mount adapter for MegaIP series MegaVideo Flex.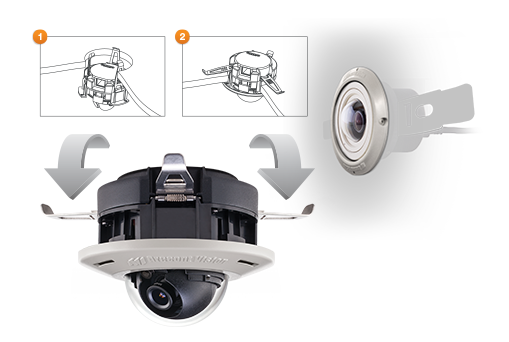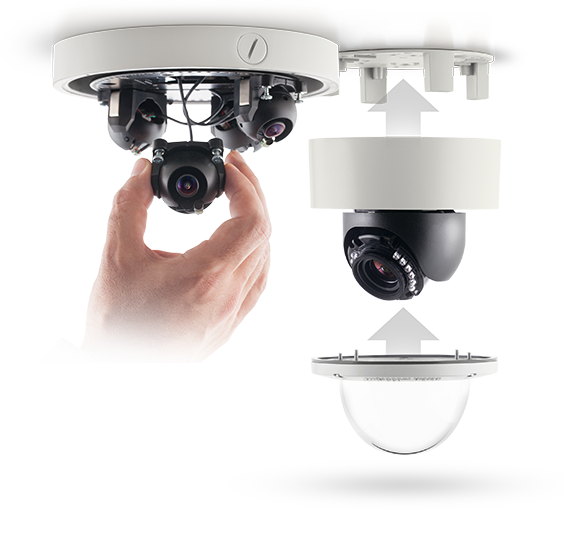 Magnetic Clasps
Magnetic clasps make installation easy and safe by allowing the installer to use both hands for installing the camera body or securing the fasteners. The latest generation MegaIP series MegaDome and SurroundVideo housing as well as the Contera series Outdoor Dome features an easy to install mounting plate that has magnetic fasteners. These fasteners hold the camera body in place while the installer secures it to the mounting plate. The MegaIP series MicroDome flush mount housing uses magnets to hold the camera dome and trim ring in place, and the MegaIP series SurroundVideo Omni series uses magnets to hold the movable sensors while the installer secures them to the metal Omni track.

Omni Track Design
A unique track design of the Mega-series SurroundVideo Omni family allows four individual sensor gimbals to be independently placed in nearly any configuration. Popular uses of SurroundVideo Omni cameras are to cover the intersection of hallways or to provide a 270° view at the corner of a building.
Installation is literally a snap, since each gimbal is magnetically set in place for the Omni G1 and G2 models then locked down. These capabilities make it easier to arrange a configuration around the Omni track during the installation process.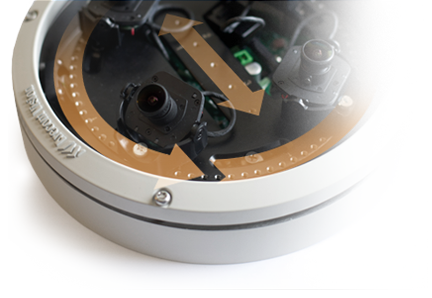 Remote Focus & Zoom
Arecont Vision MegaIP and ConteraIP cameras with remote focus (and zoom) can be installed without locally adjusting the focus or zoom (if applicable) of the sensor. Remote focus and zoom is controlled through the 3rd party VMS or through the camera webpage.
Unique to Arecont Vision is even the smallest form factor models like the MegaIP series MicroBullet, MicroDome, and MegaVideo Flex, as well as multi-sensor SurroundVideo® G5 and SurroundVideo Omni G2 cameras have remote focus capability.
Contera series Bullet, Indoor Dome, and Outdoor dome cameras all feature remote focus and zoom with motorized lens.

Remote Setup
The MegaIP series SurroundVideo Omni G3 features a first-of-its-kind, game-changing ability. SurroundVideo Omni G3 can be set up completely remotely with pan, tilt, focus, and zoom functionality of four varifocal lens sensors.
Configuration presets allow the user to simply click on a default 180°, 270°, or 360° configuration. Custom presets can also be saved to memory.
The MegaIP series MegaDome G3 RS also features remote setup capability for easy installation and later required view changes.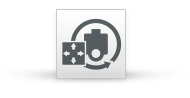 Pan
Tilt
Focus
Zoom
hello world

CorridorView™ with 90° Image Flip
With CorridorView, cameras with this feature can rotate or flip the image in 90° increments. This feature is ideal for narrow hallways where pixels are often wasted capturing the surrounding walls.
All MegaIP series single-sensor cameras feature models with this capability. Contera series cameras offer this capability, along with additional advanced image mirroring capabilities.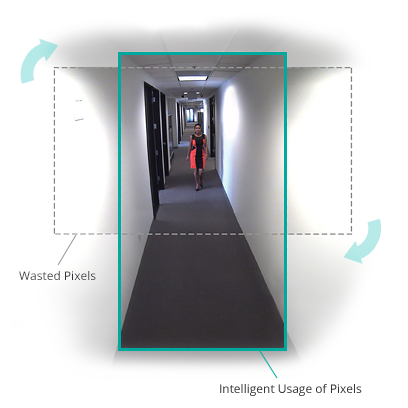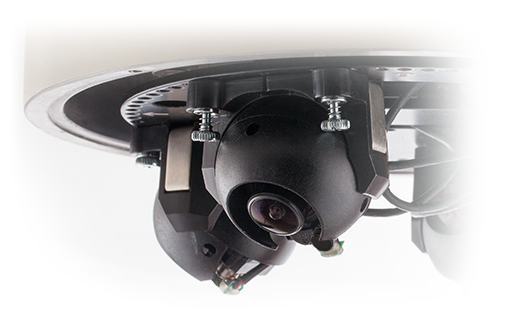 Adjustable 2- and 3-Axis Gimbals
Arecont Vision cameras with maneuverable 2- or 3-axis gimbal architectures. The MegaIP series Omni G1 and G3 offer 2-axis adjustability, while the MicroDome G2, MicroDome Duo, and SurroundVideo Omni G2 offer 3-axis adjustment. All benefit from an improved range of motion when positioning sensors allowing the installer to install the camera on a wall in any angle.

Interchangeable Lenses
The smallest of Arecont Vision cameras still offer the flexibility of changing the field of views.
In MegaIP series cameras that are too small for varifocal lenses they are designed for swappable M12 lenses that range from 2.1mm to 16mm for the MegaIP series.
The Remote Focus modules on cameras such as MegaIP series SurroundVideo Omni G2 and MicroDome G2 have been designed to be separate from the lenses in order to benefit from these capabilities.
Contera cameras feature fixed, factory-focused lenses or motorized varifocal lenses depending upon the individual family.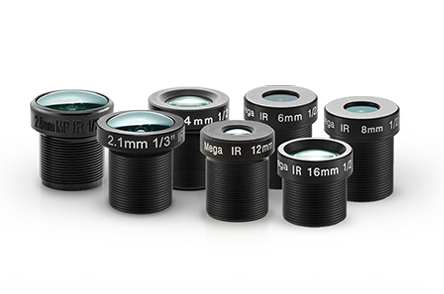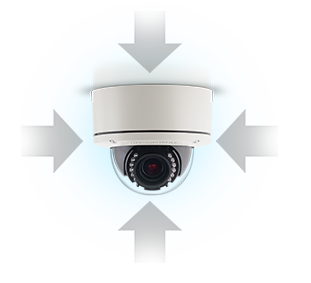 Total PoE Solution with Integrated Lens(es)
Arecont Vision cameras are a complete all-in-one Class 3 PoE solution. The camera, IR LEDs, motorized lenses, heater, and fan all operate within the Class 3 PoE specification allowing the cameras to be installed on existing network switches versus having to upgrade to PoE Plus.
Interoperability with Partners

Arecont Vision believes in maintaining strong partnerships with our VMS partners, 3rd party hardware/software manufacturers, and security systems integrators, and providing them the tools they need with the best possible compatibility. Arecont Vision's relationships and compatibility with their future-proof API gives them a competitive edge in the security camera industry.


Technology Partner Program
The Arecont Vision Technology Partner Program is designed to establish and grow partnerships with elite manufacturers through software and hardware integration, sales collaboration, and joint marketing. The program is open to Video Partners, Video Management Software, and Analytics manufacturers, as well as Infrastructure Partners which include PSIM, servers, storage, network infrastructure, wireless, cybersecurity, structured cabling, illumination, optics enclosures, utility software, and accessories.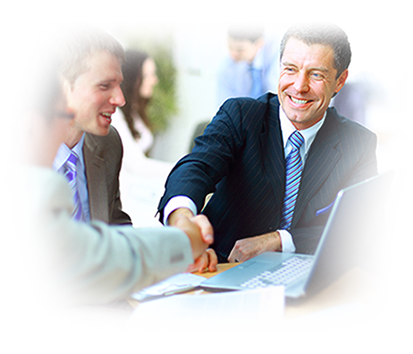 Reliability and Flexibility with the MegaLab™
The MegaLab is a dedicated testing facility and knowledge center located at Arecont Vision's headquarters, development center, and manufacturing facilities in Glendale, California. The MegaLab is used by Arecont Vision and by manufacturers of video management system (VMS) software, network video recorders (NVRs), storage, servers, cybersecurity solutions, utilities, lighting, and network infrastructure to go beyond ONVIF and PSIA standards.
The MegaLab and its complement of over 120 Arecont Vision cameras is a key component of our continued commitment to maintaining and growing our many years of megapixel technology industry leadership. The facility is used to test new products, features, and capabilities with the latest products from a wide range of Technology Partner Program members. Authorized Arecont Vision systems integrators are also able to use the facility to ensure the best possible integration.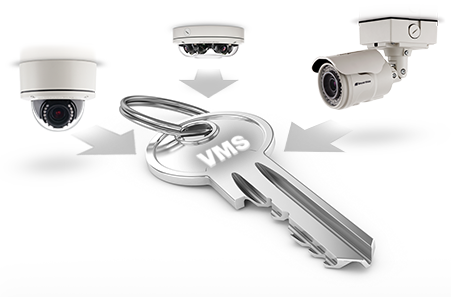 Unified API Across All Cameras
Arecont Vision developed a unified API that allows all cameras to work on a single VMS driver. This unified driver gives complete control of all features and settings on Arecont Vision MegaIP and ConteraIP cameras, beyond what ONVIF offers to take maximum advantage of available features. The future proof feature of the unified API means that future cameras will be plug-and-play on existing drivers.

ONVIF Profile S & G
Arecont Vision continues to be a leader in promoting industry standards, including ONVIF S & G compliance. Most MegaIP series cameras are ONVIF S compliant. All Contera cameras are both ONVIF S & G compliant.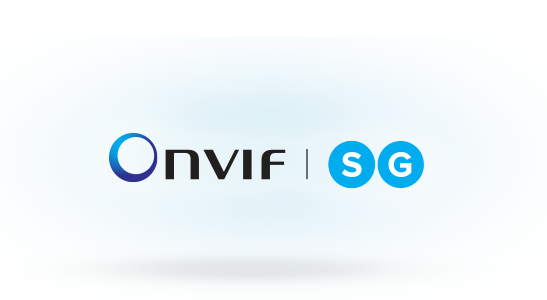 Versatility & Size Matters

Arecont Vision takes pride in having the most highly versatile and smallest form factor megapixel cameras in the industry. Leading the way in panoramic megapixel technology since 2006, Arecont Vision has continued to build on this success with our various MegaIP series SurroundVideo Omni designs that offer seemingly endless multi-sensor surveillance opportunities. The MegaIP series MegaVideo Flex tethered cable design opens the door to previously unthinkable installation setups. Powerful and loaded with features, the small size of many cameras in the Arecont Vision portfolio are surveillance industry game changers.



Multi-Sensor Technology
Arecont Vision introduced MegaIP series multi-sensor panoramic megapixel cameras in 2006 and omni-directional cameras in 2014, both industry firsts, to dramatically increase situational awareness while reducing the number of cameras required.
The MegaIP series SurroundVideo families all feature four sensors and lenses to provide an all-in-one solution with multi-sensor video surveillance coverage, either panoramic or omni-directional. Cameras in this family are available in 180° and 360° panoramic configurations, as well as user-configurable multi-sensor configurations that utilize an omni-directional track for precise sensor placements.
The MegaIP series MicroDome Duo offers a range of resolutions with twin, independent, and adjustable megapixel sensors.
Contera Panoramic multi-sensor cameras offer a 180° configuration with extremely fast frame rate and outstanding image quality.
Even with multiple sensors, these cameras require only 1 license from most of the industry leading VMS platforms for further cost savings.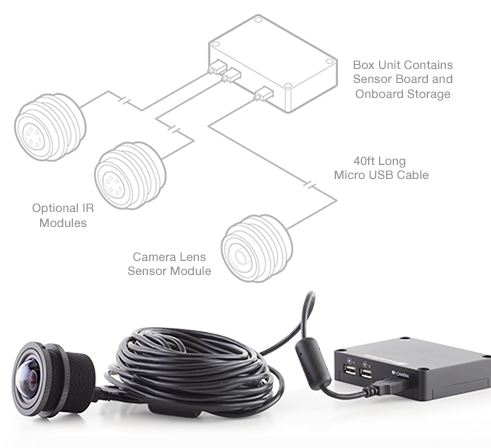 Tethered Cable Design
The primary feature of MegaIP series MegaVideo Flex cameras is the innovative tethered cabling system, which allows the sensor and optional IR units to be installed up to 40 feet (12 meters) away from the main camera box, is what separates MegaVideo Flex cameras from the competition. In some instances, the camera box could theoretically be installed inside a wall that is opposite of the sensor unit or in another room entirely.
The MegaVideo Flex sensor and IR units can also be installed in very small spaces, where even some of the smallest all-in-one IP cameras cannot fit.

180° Panoramic
Delivering virtually seamless and stunning 180° coverage, Arecont Vision Mega SurroundVideo and Contera series 180° panoramic cameras capture a full 180° horizontal field-of-view. When installed in a large area, these cameras provide the best situational awareness.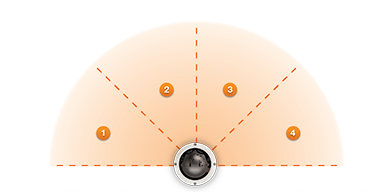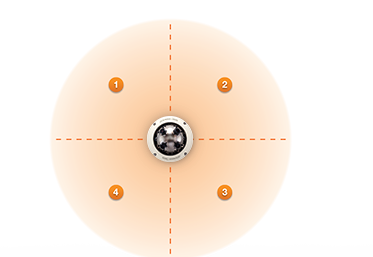 360° Panoramic
With a full 360° field-of-view, Arecont Vision Mega SurroundVideo series 360° panoramic cameras can be strategically placed in the center of rooms or large open spaces to capture important details. The sensors can be tilted so they can be positioned to either look out at the horizon or cover the area below the camera depending on scene requirements.

270° Capable
A great example of the versatility of the MegaIP series SurroundVideo Omni family is the building corner layout. Configuring the 4 sensors in the corner layout provides a 270° field of view as well as a view looking directly underneath the camera. This layout provides comprehensive video all the time versus the limited field of view and incorrectly positioned PTZ.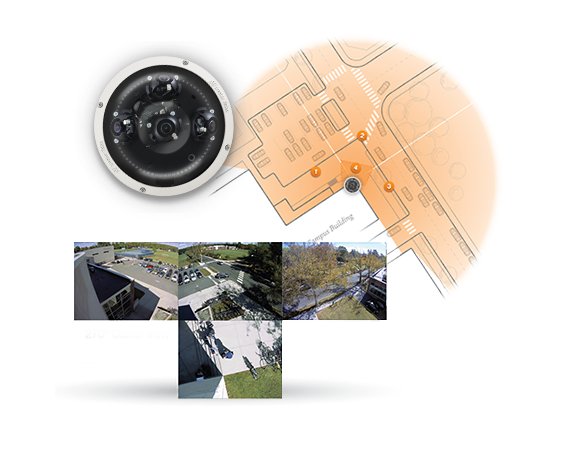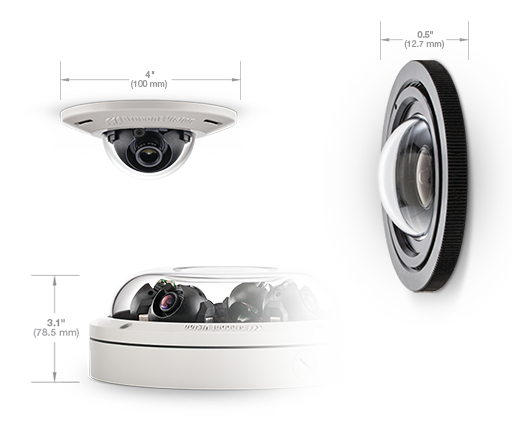 Ultra Low Profile
Many Arecont Vision MegaIP series cameras have been designed to have a very small footprint for discrete surveillance. The MicroDome series is barely noticeable or recognizable when installed in a variety of environments. SurroundVideo Omni series cameras are low profile. They are even more discrete when installed with the flush mount adapter while reducing the number of cameras required for complete situational awareness.
MegaVideo Flex reaches an entirely new level of discretion with an extremely small above-surface footprint and only one-half inch high. This makes MegaVideo Flex the lowest profile Arecont Vision camera solution to date.
Environmental & Standards

Many Arecont Vision MegaIP and ConteraIP series cameras are designed to meet important compliance standards to indicate, for example, that they are reliable for outdoor use in harsh operating conditions or capable of withstanding attacks from vandals. Arecont Vision cameras are built to be tough and compliance standards are proof of this.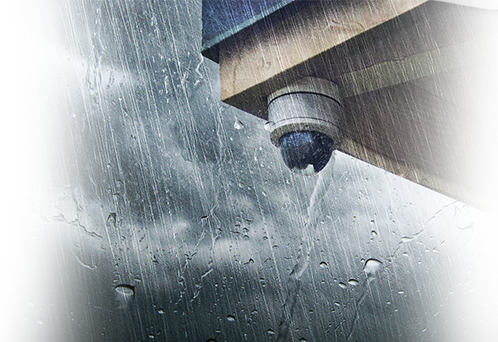 IP66 Environmental Rating
A significant number of Arecont Vision MegaIP and ConteraIP series cameras have been designed for demanding harsh-weather environments. Subjected and certified to rigorous dust and water tests and additionally tested in low operating temperatures, Arecont Vision cameras with the IP66 rating are ideal for outdoor applications.

IK-10 Impact Resistant Rating
The IK-10 rated, rugged cast-aluminum housing of almost all Arecont Vision MegaIP and ConteraIP dome and bullet-style cameras is perfect for deterring vandals since it can withstand the equivalent of 55 kg (120 lbs) of force. Most cameras in the MegaDome, MicroDome, MegaView, and SurroundVideo families are IK-10 rated. All Contera cameras other than the indoor dome are IK-10 rated.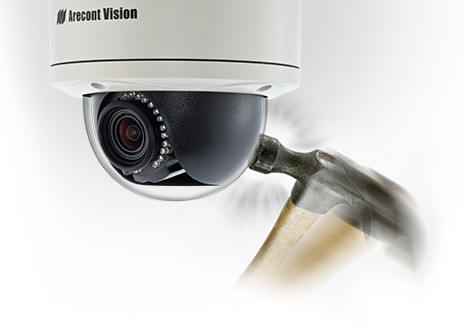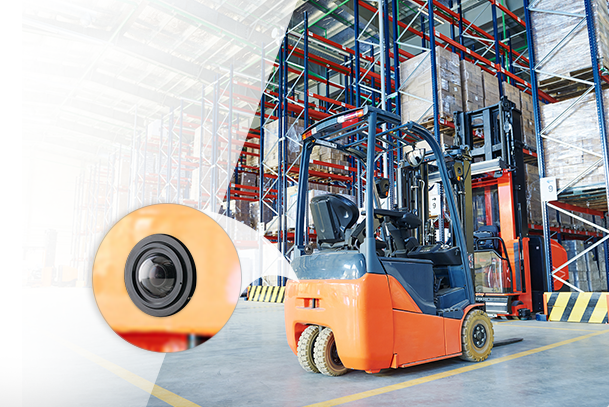 Vibration & Shock Resistant
Some Arecont Vision cameras such as the MegaIP series MegaVideo Flex have achieved vibration and shock resistant certification (EN61373). This allows the camera to be reliably installed in a moving vehicle, since it's capable of withstanding the bumps and vibrations expected from a vehicle in motion.
Contact a Sales Representative Today!